Christian Heritage School exists to partner with parents and churches in fulfilling their God-given responsibilities to teach children that "In (Christ) are hid all the treasures of wisdom and knowledge" (Colossians 2:3, KJV) and to provide its students with an education of spiritual and academic excellence with which to serve God.

Christian Heritage School was founded to assist parents in providing their children with a God-centered world and life view. Because "in Christ are hid all the treasures of wisdom and knowledge," we believe there is a clear, critical difference between the biblical and secular viewpoints on any given subject and that no subject can be taught in the totality of its truth when the Creator is denied or ignored. It is our desire and purpose to teach our students that Jesus Christ is to be preeminent in all of life, thereby encouraging them to assess the world according to Scriptural precepts and to inspire them to live by wisdom with Christ-like behavior.
We believe that each student is uniquely created by God in His image as a spiritual, intellectual, physical, emotional and social being endowed with particular gifts and talents. In light of this, it is our responsibility to help our students develop these gifts and talents, with particular emphasis on spiritual growth and academic excellence, so that they can better glorify and serve the Lord.
Christian education is primarily the parents' responsibility. Christian Heritage School seeks to assist parents in the execution of their responsibilities.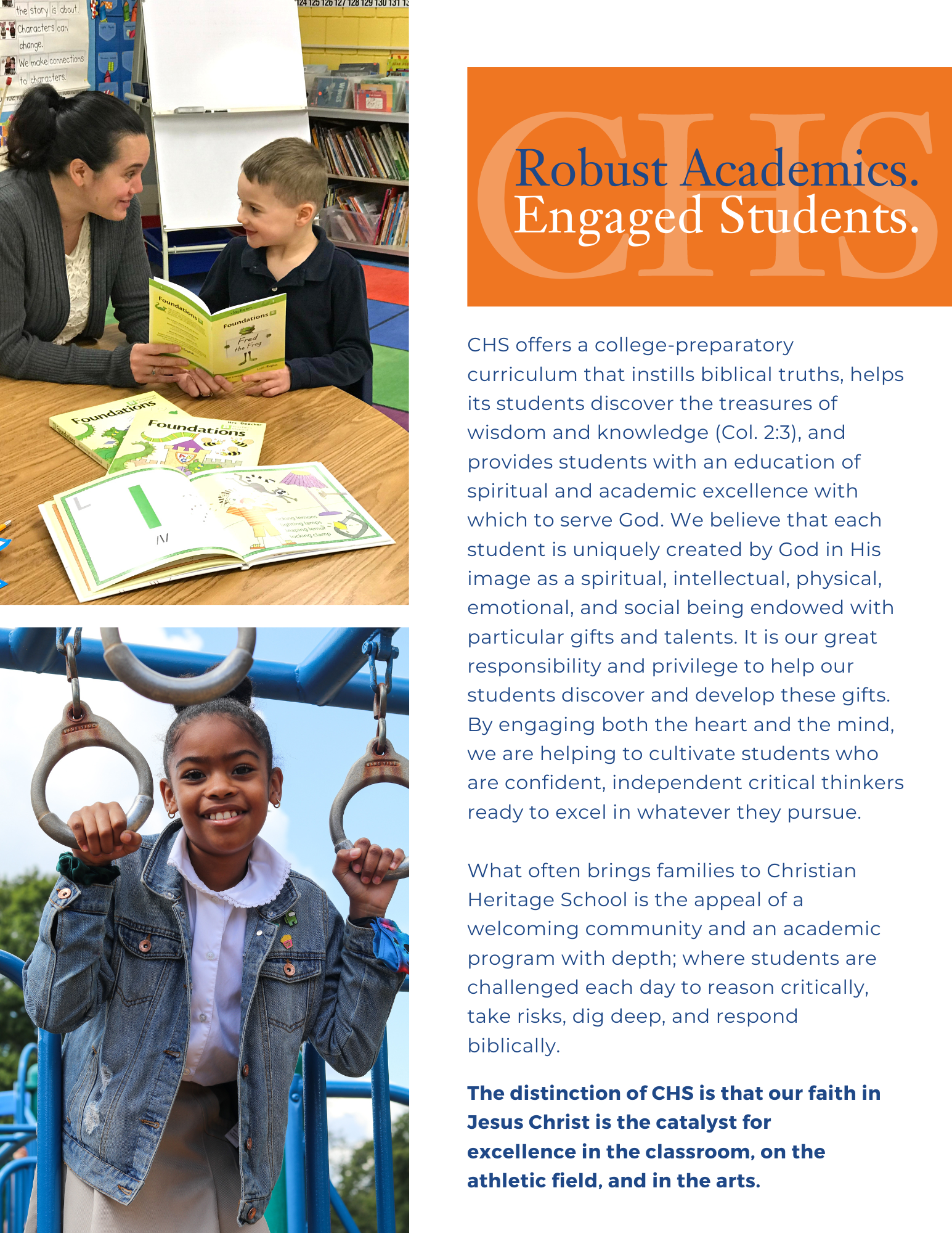 In Parents' Words
"We chose CHS because we wanted a strong integration of faith and learning, an excellent academic program and a school where our children could thrive."
"For us, there's no compromise when it comes to an education taught from a biblical worldview."
"The academics and staff are excellent while keeping with the priority of a clear, unwavering Christian foundation. The faculty and teachers have such a clear and deep care for the children, rooted in their love for Christ while keeping with excellence in the education they provide. There can be no better combination."
"Our favorite thing about CHS is the attention given to our child and the care given to her specific needs by God-fearing staff."
"There is no better private school, in my opinion. The care and attention to the children is always apparent and the academics and athletics are competitive and robust."
"The teachers are treasures."